Royal Victorian Greenhouse Vl36 in Green with 4mm tempered glass:10'2″ W x 19'11" L x 9′ H and 6'7″ H sidewalls. Includes 4 roof windows (2 automatic openers & 2 spindles), 1 louver window with clear Lexan cover for winter, 2 sliding doors, large bottom frame/base, large gutters with downspouts, and misting system.
The Victorian Greenhouse is one of the premier greenhouses in the "Helios" line of greenhouses from Janssens of Belgium. This company has been making high-end glass greenhouses for over 30 years.
Since the introduction of the Victorian model, in 1999, they have become a leading supplier of this style of greenhouse in Europe. We are proud to now be the USA distributor of this very fine greenhouse.
Victorian Greenhouse Multiple Sizes, Years of Design Improvements, and Still Amazingly Affordable
The Victorian Greenhouse not only provides a first-class quality greenhouse environment, but it also adds significant old fashion English style and beauty to your backyard.
This is a classic English greenhouse. Janssens has improved on the overall design and internal growing environment of this style of greenhouse since it's initial release while keeping the price lower than comparable models in this class. Available in three different sizes, the Victorian Greenhouse is suitable for almost any backyard application.
Glass or Polycarbonate Construction – Choose Which Best For You
The Victorian Greenhouse line is available with either 4mm Tempered Glass or 10mm Triple Layer "X-Strong" Polycarbonate walls. Each choice has a unique set of advantages allowing you to pick the option which will work best for your needs.
Advantages of Tempered Glass
Full transparency is a better "look" for some applications, especially if using the structure for non-plant-growing purposes
The maximum amount of natural light when using the structure for growing plants
No fading or discoloration over the lifespan
Flame resistant
Glass is a chemical-free, environmentally friendly material
Advantages of Polycarbonate
Almost impossible to break, polycarbonate will flex and resist against things like objects hitting the panels or heavy wind and snow loads
Blocks harmful UV rays and creates a diffused light environment that promotes consistent light conditions throughout the interior of the structure
Has been shown to retain heat more efficiently than glass, an advantage in cold weather growing environments
Low maintenance, will demand less cleaning than glass while still looking great.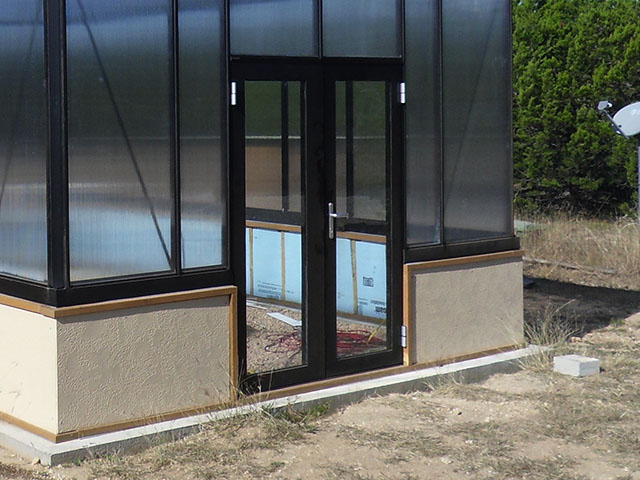 New for 2021!  Lockable Hinged Door in either Single or Double (pictured) configuration, with black or dark green framing.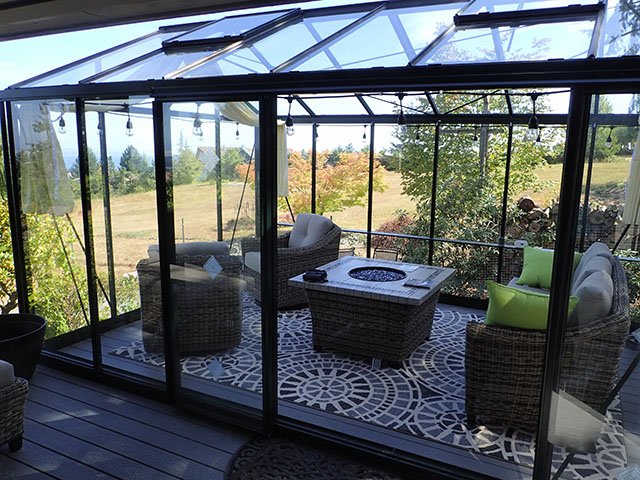 New for 2021!  Lockable Single and Double (pictured) Sliding Doors are available with either black or dark green framing.
Assembly video here!